The Early Ancestors


Tom Patterson, Blair Tanner, and Edward Tanner formed The Ancestors in the summer of 1965. The Tanners and Tom had been friends since 1958, when Blair and Tom met in the first grade, while Edward was in the second grade. The three shared a common interest in The Three Stooges and, together in 1958, formed the Official Dublin (Georgia) Chapter of The Three Stooges Fan Club. The group received their membership papers, chapter charter, and numerous other items of Stooge-related memorabilia. The three remained close friends, with Blair and Tom sharing first through twelfth grade classes together, along with Allen Tindol, who joined The Ancestors in 1966.
In the summer of 1965, after many years of watching television together and several years of listening to pop music together, the three founders decided that the only way to escape the tedium of a central Georgia summer was to start a band. Blair and Edward played guitar, and Tom, who was a drummer in the school band, was the natural selection as the group's drummer. In the beginning, Tom handled most of the vocals. The band wrote its own material, including such ditties as the instrumentals: "Sewer Rat," "Instrumental Ballad of Rabbit Tooth," and "Lumbago." Additional songs included: "Tater Soup" (which had sixteen or seventeen verses), "Here Come Missy," "On Your Own," "Goody Goody Two Shoes," "Klepto Joe," "Bongo Bonzo," and "The Ballad of Hermie Brandt."

Click here
to download and play "The Instrumental Ballad of Rabbit Tooth," featuring Blair Tanner on electric guitar, Edward Tanner on acoustic guitar, Tom Patterson on chants, vocals, and (occasional) percussion, and Allen Tindol on vocals. From "The Basement Tapes," recorded circa 1972 in the Tanner basement.


In 1966 the band began performing covers of then popular tunes like "Gloria," "It's All Over Now," "Land of 1,000 Dances," and "Louie Louie." The band temporarily added a nasal-voiced lead singer, Jimmy McDonald, who lasted a few months before being replaced by Allen Tindol, on bass guitar and vocals.
Early business card: The Ancestors under the management of Jimmy McDonald.


The band gradually became more proficient on their respective instruments, slightly more mainstream, and somewhat commercially acceptable, playing fairly often for teen dances at the local Teen Center, American Legion Hall, National Guard Armory, church dances, and the occasional birthday party.


The Ancestors
performing for the students and faculty of Dublin High School at the
"Coronation" in the spring of 1967.

Allen, Tom, and Blair
(from left to right)

Allen on Vox violin bass (later repossessed), Tom on drums

Blair and Edward, with Tom at left in background
The Ancestors - John Wilson's Birthday Party, July 1967
From left to right: Allen, Tom, Blair, and Edward.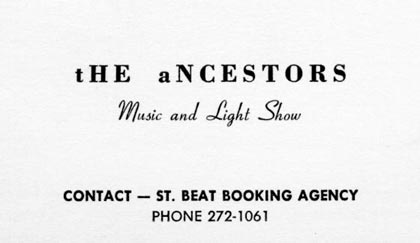 Official business card: The Ancestors managed by
St. "BEAT" Booking Agency
(Blair, Edward, Allen, and Tom).
Designed by Tom Patterson.



Back to intro

Next chapter