The Hardest Working Band in Show Business
In mid 1978, Jonny Hibbert, Henry Hibbert, and Robert Schmidt left the band, to be replaced by Guy Goodman, Marvin Jackson (another HaHavishnu refugee), and Steve Pace, formerly of Capricorn recording artist "Hydra" and later of "Krokus." This ensemble lasted for a while.


Steve Pace quit and was replaced by Tony Garstin, Charles Wolfe (drummer for The ("Money Changes Everything") Brains), Darryl Rhoades himself, and Mark Bishop. Jackson left the band and was replaced by Edward's HaHavishnu replacement Michael Colford. By January 1980 the band consisted of what many fans believe to be the "real" Cruis-O-Matic: Jason "Opie" Keene on bass, Bob "Leo Sagittarius" Cunningham on guitar, Blair "Jesse Presley" Tanner on Farfisa and Vox organ and guitar, Mark Bishop on drums, and Edward "Mr. Vegas" Tanner on guitar.


| | |
| --- | --- |
| | |
| "Mr. Vegas" and Cruis-O-Matic entertain guests of The Windjammer, Charleston, South Carolina. | Mr. Vegas pays homage to his idol Michael Jackson. |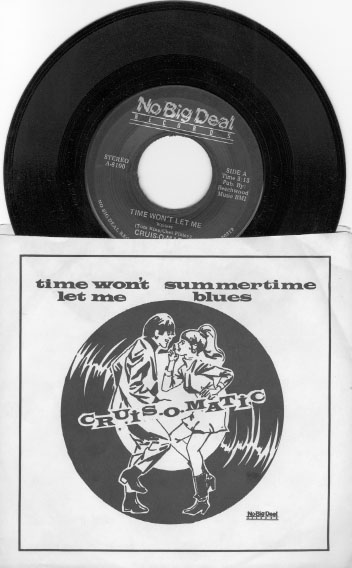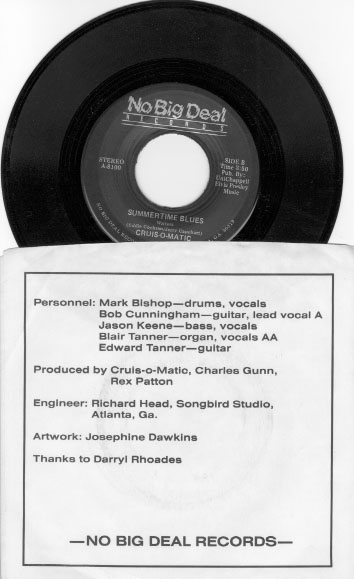 Mr. Leo Sagittarius (aka Bob Cunningham)
flanked by Cruis-O-Matic single
(Time Won't Let Me -- Summertime Blues)
This incarnation played on the average of 200 shows per year from January 1980 until December 31, 1984. This was the "funny" Cruis-O-Matic: Blair, an excellent break dancer and wry humorist, wore leisure suits and Barney Fife outfits; Opie, normally the butt of on-stage band jokes, sported a carrot-red flat top; Mark played drum solos in the audience. During this period, the band adopted The Ancestors' approach of toying with the audience, but, because of the times, or because the Tanners had gotten better at it, this time the result was not contempt, but widespread popularity.

Although primarily an oldies band, Cruis-O-Matic rarely played songs by The Beatles or Rolling Stones, never any beach music, almost no soul music, and virtually no songs by any bands who had more than one or two hits. The band's stock in trade was doing songs by The Standells, Music Machine, Music Explosion, Syndicate of Sound, Balloon Farm, Blues Magoos, Tremeloes, Searchers, and a whole lot of instrumentals, ranging from a psychedelic version of "Wildwood Flower" to faux polka instrumentals, which they performed under the moniker "The Sons of Hitler -- those bad boys from Bavaria." The band spread rumors about itself: they were from Las Vegas; Blair was Elvis's twin brother who had long been believed dead at birth; Opie had done time in prison; members of the band were all fraternity alums from various universities; various band members suffered from heroin addiction.

Kids loved the band because the band members were basically clean but irreverent, and oldsters loved the repertoire, which consisted of 99% sixties tunes. The band was represented by Hit Attractions which, up until that time, traded only in bands like The Tams and The Swingin' Medallions. Consistent with their skewed sense of entertainment, the band refused to submit standard promo photos to their agents and nightclubs. Instead they created silly pictures of dogs' heads on human bodies, superimposed on a butcher's meat cutting chart, Elvis heads on obese female and Superman torsos, Mexican frog musicians, gangs of Shriners on mini motorcycles, and other blatant attempts at getting attention.
Fraternity guys loved the band, largely because their dates hated the band. Cruis-O-Matic did not take requests. They played too loud (legendary performer Bruce Hampton pronounced them the loudest thing he had ever heard) and mercilessly harassed their fans -- especially the female ones. Several fraternities hired the band solely on word-of-mouth, intrigued by hearing of the band's country version of "Purple Haze," for example. One grown-up guy paid the band in excess of two thousand dollars to play a small private party, because he had heard that the band played the long version of "In-A-Gadda-Da-Vida."

Prev chapter

Next chapter